The City of Boston has launched a free, curbside food waste collection service for residents living in buildings with 6 units or fewer.
Participation for year one of this program, which began in August 2022, filled up within a matter of weeks – but new households will be added each year. Interested residents are encouraged to pre-enroll for year 2, with service beginning in Summer 2023.
How it works:
Participation in this program is as easy and convenient as placing your trash and recycling curbside, with a new separate bin for food waste and compostables. Once enrolled, you will receive a starter kit including a kitchen container, roll of certified compostable liners, and a curbside bin. Your kit will also include educational materials that list accepted items and best practices. Your food waste will be collected weekly on your trash and recycling day.
1. Line your bin and start collecting your food scraps.
Use a paper bag or certified compostable liner. For a list of accepted items, please visit our FAQ.
2. Weekly Curbside Collection.
Place your bin curbside by 6am on your weekly trash day. We recommend you rinse your bin after service to keep it clean.
3. We'll take it from here!
Collected food scraps will be processed into nutrient-rich compost at a composting facility in West Bridgewater, or recycled through anaerobic digestion to create clean energy. Learn more about both of these processes here.
Over three years, one household can divert roughly 1 TON of food scraps from the waste stream.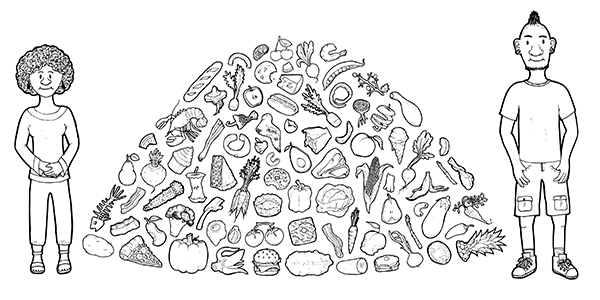 Roughly one-third of household waste is made up of food waste and organic materials. Help Boston reach its zero-waste goals: use your curbside food waste bin to collect these items to be recycled instead of wasted!